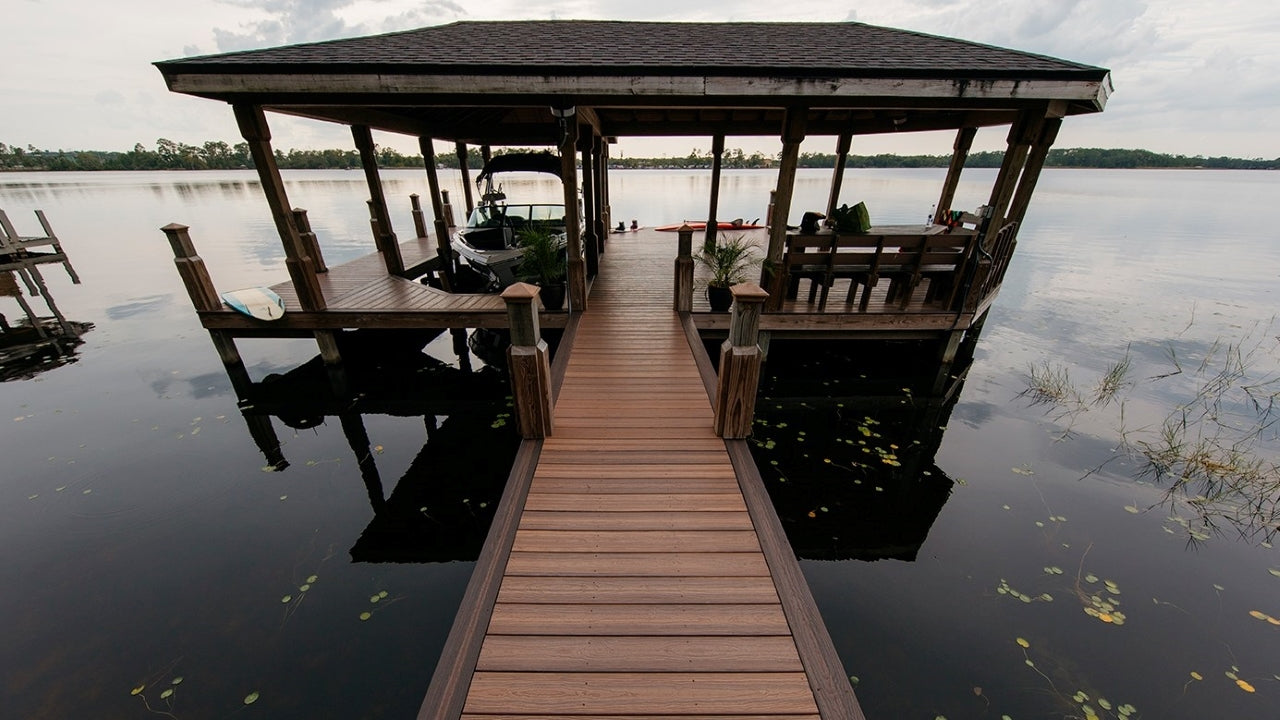 Envision Decking by Tamko
Envision Decking by Tamko is the capped composite evergrain decking with bold color profiles and deep decking characteristics with a proven composite formula.
Tamko Decking Collections include EverGrain Classic, the non-capped composite decking, which has been a best-selling composite decking line since the early 2000's. In
2011, Tamko Building Products brought a Capped board to the market, as did other decking brands around that time.
This capped composite product called Envision was originally available in a few colors, but since grown to incorporate four collections.
Envision Ridge Premium is the newest and most cost effective variegated decking profile. Ridge Premium has a great price due to a scalloped bottom which removes material cost but retains the Envision profile.
The other three profiles have non-scalloped bottoms and are sometimes called "full" boards.
Distinction Collection is the most variegated; color enhanced decking from Envision and is available in four realistic profile colors.
Expression is the Lowest Costing of full profile boards by Envision Decking and is available in four monochromatic profile colors. However, just like the other collections, the composite within Envision Decking is pressed into the mold. This gets rid of air bubbles and gives a more dense decking board which has shown excellent performance. The cap pressed on as well all designed to give superior durability.
Inspiration Decking is a "middle" priced capped composite decking option by Envision Decking. With three beautiful variegated boards, this collection gives a great "bang-for-your-buck". While the hue doesn't have a dramatic change from board to board like Distinction, the patterns and shading does change, giving a real-wood feel without the headache of real wood.
Want to read more about Envision Decking by Tamko, download the 2020 Brochure for composite decking products by Tamko Envision. Tamko Decking uses a specific hidden fastener called EverClip. This hidden fastening clip allows a connection from clip to joist that pins the decking in place, much like other decking hidden fasteners. Ready to get a decking quote, give our staff a call!
Appointment Scheduled
Thank you for scheduling your appointment at Deck & Rail Supply!
Address: 785 E Warren Street, Gardner, KS 66030
If you need to make adjustments to your appointment or have questions of any kind, please call, email, or contact us below.
Phone: 913-884-3335 | Email: sales@deckandrailsupply.com
Please have a look at our site to gather ideas for your project!