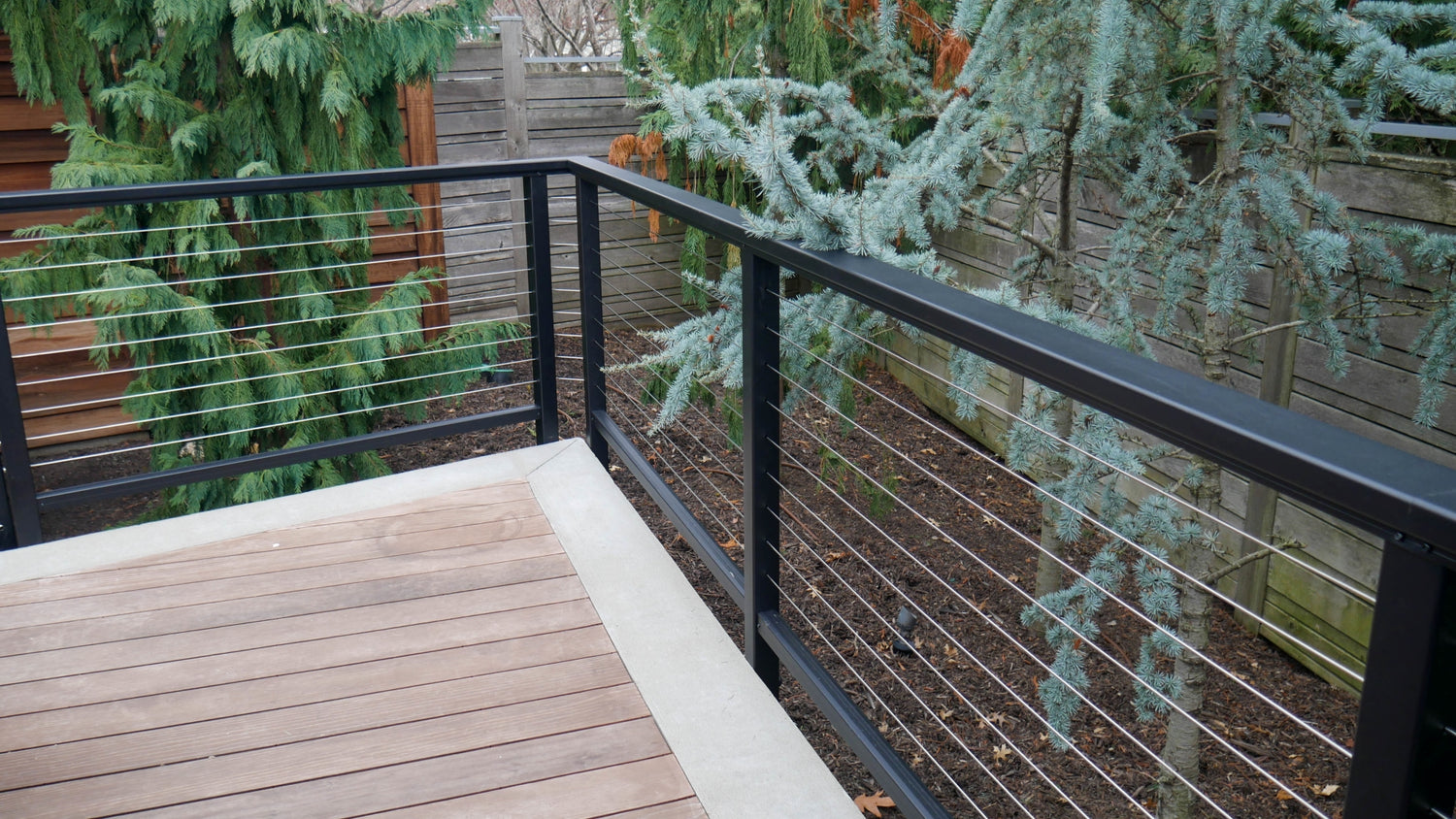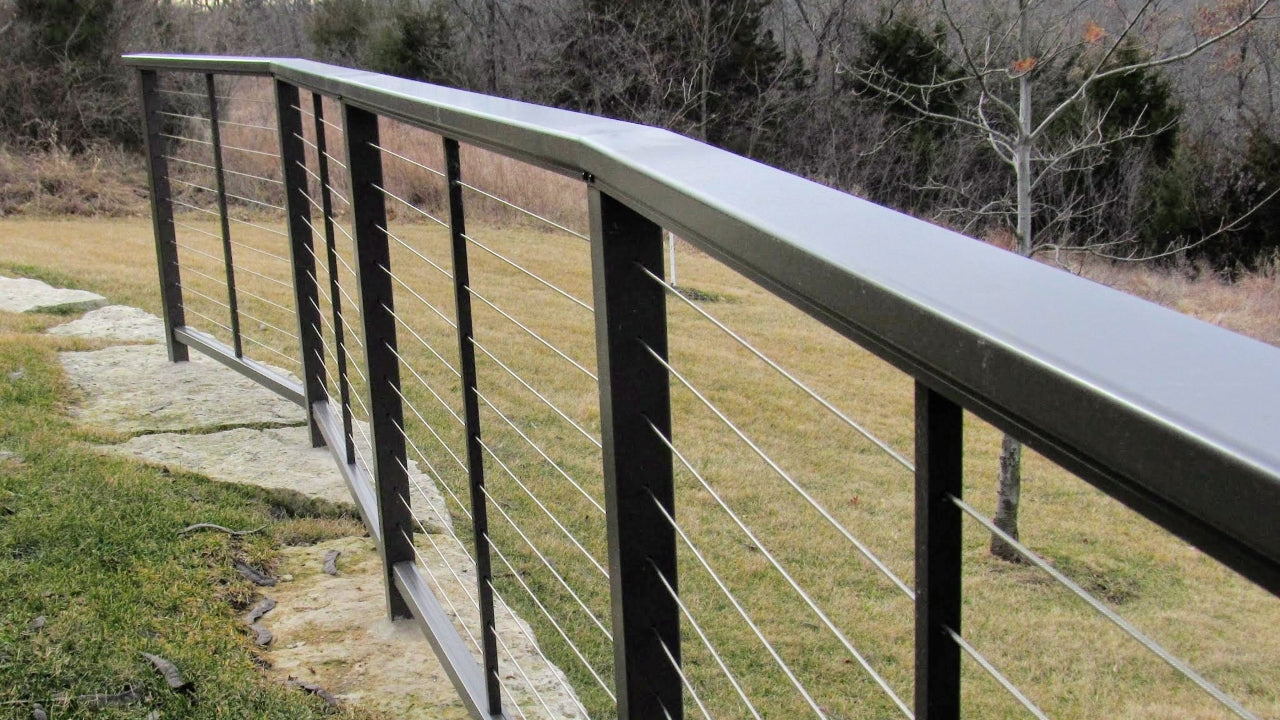 DesignRail is the premier, cream-of-the-crop cable railing system, with more available (create your own) options than any other system. DesignRail by Feeney is a customizable Railing system with 6 available top rail profiles, and 14 standard colors. Two top rail profiles, Series 100 and Series 150, (DesignRail Kits exclusive top rail,) are designed to install to the face of each post with rail bracket connectors. This is different from the other four series - 200, 300, 350, and 400, which are Over-the-post type top rails, and are installed over the top of posts, giving a consistent continuous top rail profile. Series 200 and 400 are flat top rails which are great for sitting a drink on top of, and are sometimes called drink rail profiles. Series 400 requires an additional board which can be routered, or simply fastened to the top of the railing. Often, 400 series Feeney rail is used with a matching composite or pvc deck boards to match perfectly with the deck. Please see DesignRail Brochure for all available options and profiles!
DesignRail has multiple infill options, making it not just a cable system but much more! Railing Infill options include Aluminum 3/4 in. Baluster or Picket Infill, Horizontal Cable Infill, Glass Panel Infill, Vertical Cable Infill, and New Panel Infill available in Laser Cut Aluminum Panels, Resin Panels, and Stainless Steel Mesh Panels.
Each DesignRail infill is installed unique to its type, however all DesignRail Posts are aluminum and measure 2-3/8 in. x 2- 3/8 in. with four mounting options. DesignRail Base Mount Posts are used for surface connection such as the top of a deck or concrete. DesignRail Fascia Mount Posts do not have a base or bracket and attach the side of a deck or concrete where there is no overhang. DesignRail Fascia Bracket Posts are needed when the deck has an overhang. (An overhang is where the outside deck boards stick past the fascia, usually somewhere between 1 in. and 2.5 in.) DesignRail Stanchion Mount Posts are a two part post system where the base is connected to structural members, then tile, concrete or other flooring covers the base, then the second part of the post is attached for a seamless floor to post transition. Post are use for 90 degree turn application, 45 degree turns, and curved cable railing.
DesignRail has available 36 in., 38 in., or 42 in. finished rail height. Rail is extruded in 10 ft. or 20 ft. lengths. Stair Posts, Level Rail, and Stair Rail are to be field cut for installation. Please see this DesignRail Brochure for all DesignRail options. Start your DesignRail quote today by downloading the DesignRail Order Form and letting us know the desired options, with a drawing of the space.
New and unique with Feeney is color customization! This means you can now color-match your rail with your favorite color or sports team! You can have Chiefs Red Railing, Royals Blue Railing, or Sporting Blue Railing! Of course it doesn't have to be Kansas City related colors, but we are just a little bias.
DesignRail Post Options
Post mounting options customized to fit your space and needs.
Base Mount Post
Post with base to attach to the surface of decking, concrete, or stone.
Fascia Mount Post
Fascia posts attach to the fascia, joists, or rim of the deck or patio.
Fascia Bracket Post
Bracketed fascia posts are handy when the decking is overhung past the rim.
Stanchion Mount Posts
These posts can be very useful for concrete application
DesignRail Top Rail Profiles
Choose from the following options of top rail. Rail is sent in up to 20' lengths for the least amount of seams possible. Series 100 and 150 attach to the sides of posts, the other series's attach to the top of the posts.
Series 200
Over-the-post rectangular profile top rail
Series 450
Aluminum channel for additional drink rail top cap.
Series 350
Elliptical top rail profile
Series 100
Square profile graspable between post not over top rail
150 Stair
Series 150 is optimal for stair railing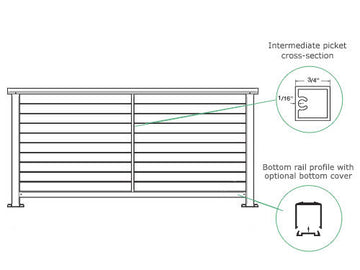 Horizontal INfill
Horizontal cable is the most popular type of infill for DesignRail. The bottom rail is optional, and can be included or replaced with a cable.
Railing Infill Options
DesignRail has a huge option of infills from traditional, to modern.
Horizontal Cable

Vertical Cable
Glass

Alminum Baluster
Stainless Steel Mesh

Lazer Cut Aluminum

Resin
Horizontal Cable Rail Collections